BHAGAVAD GITA – Simplified, An Unbiased Interpretation by Vino Mody released worldwide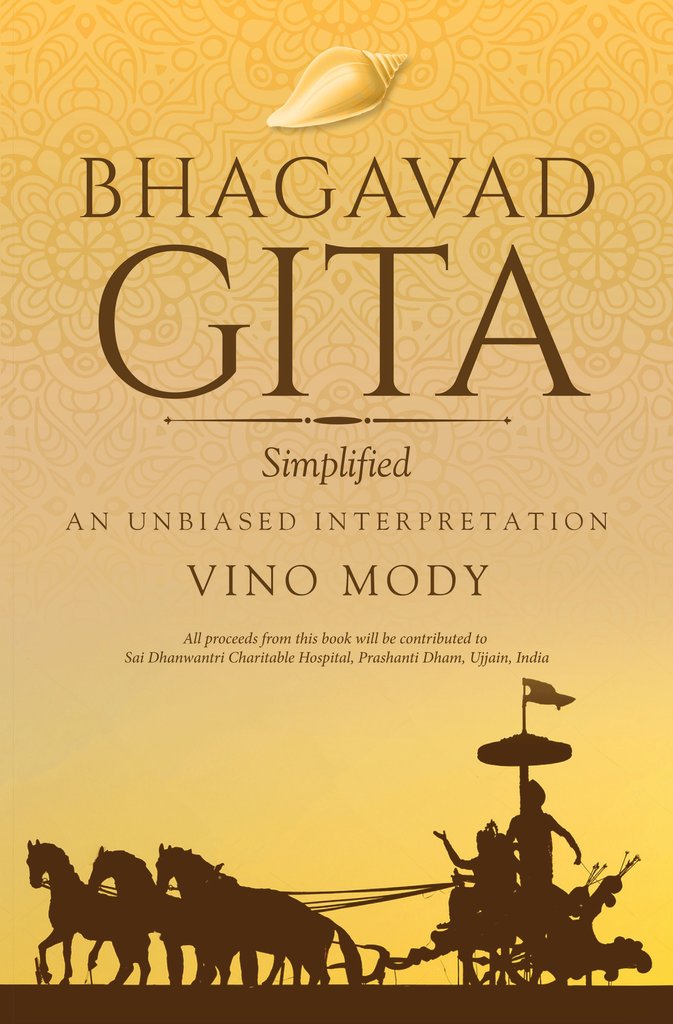 No human being does more loving service to me than one who shares the knowledge of Gita with others, nor shall there be anyone on this earth dearer to me.
This book, a treasure of its kind, is the product of the author's meticulous research and effort to collate the key concepts of one of the most valuable Hindu scriptures, bringing out unbiased explanations and meaning of the way of life as taught by Krishna to Arjun in the battlefield of the Great Mahabharat war. The author has gone to great lengths, putting together the key concepts, piece-by-piece, text-by-text, and the gist of all that was said in an easy-to-understand way, to benefit one and all, irrespective of religion.
The mode of translation through logical reasoning and interpretation of the text in an easy-to-read language is sure to bring light to the puzzles of life and present a way of living and looking at life through a much broader perspective than we generally tend to have, for our limited time. The author's work in chalking out and putting the related concepts together, from various parts of the Gita, requires great patience, in addition to an immense understanding and knowledge of the subject as well as the text, besides translating it from the original language to the one more common nowadays. This unique way of presenting the Gita, topic-wise, or rather concept-wise, is sure to benefit the reader in not only grasping the teachings quite easily but also being able to bring them to practice in daily life.
Reading such a work of dedication, put together with love and the sole reason of bringing out the true meaning of the otherwise, many times, misinterpreted text, adds even more faith in this blissful way of looking at, and leading one's life.
This excellent volume, published by White Falcon Publishing, offers a new way to engage the perennial wisdom of the Bhagavad Gita. The reader can strategically consult the text for cross-referenced access to its insights, all traditionally explicated. Modern readers will discover how the ancient text supports their personal and contemporary search for spiritual guidance. No one with a serious interest in the Gita should be without this work.
Vino Mody is a devoted disciple of Sri Sri Saidas Babaji. His insight and creativity are reflected in how he organizes the book by major topics instead of by chapters, making the contents easier to grasp. Arjun raises monumental questions to Lord Krishna in the Srimad Bhagavad Gita, the ultimate Upanishad. When Krishna says, "Come to me and be detached from all relations," He essentially proves that He was a Sagun form of Brahm. Vino Mody provides unbiased analytical evidence to show that Krishna declared Himself as the Lord.
He can be reached at [email protected]
All proceeds from this book will be contributed to Sai Dhanvantari Charitable Hospital in Ujjain, India.
The book is available for sale – Amazon, WFP Store and all Amazon channels worldwide in print and e-version.
Media Contact
Company Name: White Falcon Publishing Solutions LLP
Contact Person: Media Relations
Email: Send Email
Phone: +91-6280-150-239
Address:SCO 70, Second Floor Sector 47D
City: Chandigarh
Country: India
Website: https://whitefalconpublishing.com/