Hearing Aid Market Share by Manufacturer, Size, Price Trends, Growth Rate and Forecast 2027 | Demant A/S, WS Audiology A/S, Widex A/S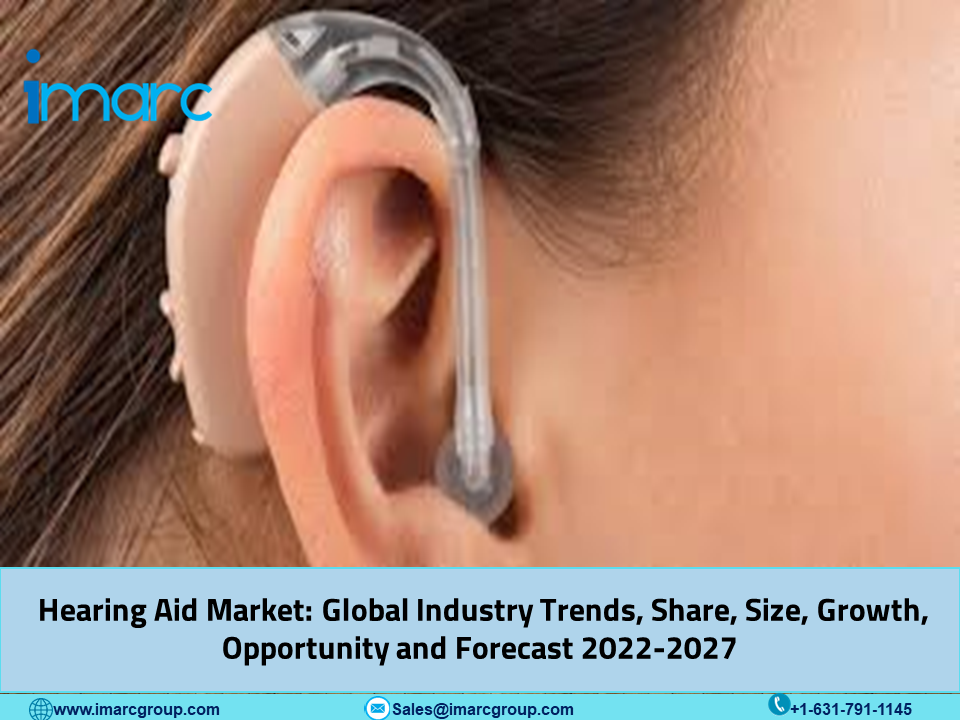 In addition to this, the increasing incidences of hearing disabilities among infants are also positively influencing the global market.
According to the latest report by IMARC Group, titled "Hearing Aid Market: Global Industry Trends, Share, Size, Growth, Opportunity and Forecast 2022-2027," the global hearing aid market reached a value of US$ 6.0 Billion in 2021. Looking forward, IMARC Group expects the market to reach US$ 8.7 Billion by 2027, exhibiting a CAGR of 6.47% during 2022-2027.
Hearing aid refers to small electronic devices powered by battery that aid in improving hearing abilities. They are of several types, such as behind-the-ear (BTE), in-the-ear (ITE), receiver-in-the Ear (RITE), canal hearing aids (CHA), cochlear implants, and others. These hearing aid devices amplify the sound vibration entering the ear and convert them into neural signals to allow individuals suffering from sensorineural orconductive hearing loss to communicate adequately and participate in daily activities. Consequently, they are extensively utilized in ENT clinics, hospitals, audiology centers, etc., across the globe.
Note: We are regularly tracking the direct effect of COVID-19 on the market, along with the indirect influence of associated industries. These observations will be integrated into the report.
Download a free sample report to get a detailed overview of the report: https://www.imarcgroup.com/hearing-aid-market/requestsample
Industry Trends:
The expanding geriatric population who are highly prone to suffer from age-related hearing loss or Presbycusis is primarily driving the hearing aid market. In addition to this, the increasing incidences of hearing disabilities among infants are also positively influencing the global market. Besides this, the introduction of new devices in aesthetically appealing designs and the launch of innovative waterproof product variants are acting as significant growth-inducing factors. In line with this, the growing integration of multiple smart and digital technologies in these devices, which include artificial intelligence (AI) and Bluetooth connectivity, and the development of new products that combine cochlear implant and hearing aid technology to help individuals overcome high-frequency hearing loss are further augmenting the market growth. Apart from this, the rising levels of noise pollution across countries, the escalating cases of birth complications and ear infections, and the inflating investments in research and development (R&D) activities by leading manufacturers are expected to bolster the hearing aid market in the coming years.
Key Market Segmentation:
IMARC Group provides an analysis of the key trends in each sub-segment of the global hearing aid market, along with forecasts at the global and regional level from 2022-2027. Our report has categorized the market based on product type, hearing loss, patient type, technology type and end-user.
Competitive Landscape:
Sonova Holding AG
Starkey Laboratories
MED-EL GmbH
Demant A/S
WS Audiology A/S
Widex A/S
Sivantos Group
GN Store Nord A/S
Cochlear Limited
SeboTek Hearing Systems LLC
ReSound Group (GN Hearing A/S)
AGX Hearing (Audigy Group)
Audina Hearing Instruments, Inc.
Lisound Hearing Aid (Fuzhou) Co., Ltd.
Banglijian
GlaxoSmithKline plc
Benson Hearing, etc
Breakup by Product Type:
Hearing Devices

Behind-the-Ear (BTE)
Receiver-in-the Ear (RITE)
In-the-Ear (ITE)
Canal Hearing Aids (CHA)
Others

Hearing Implants

Cochlear Implants
BAHA Implants
Breakup by Hearing Loss:
Sensorineural Hearing Loss
Conductive Hearing Loss
Breakup by Patient Type:
Breakup by Technology Type:
Breakup by End-User:
Hospitals
ENT Clinics and Audiology Centres
Individual
Others
Breakup by Region:
Europe
North America
Asia Pacific
Middle East and Africa
Latin America
Access full report @ https://bit.ly/3v2lHlQ
Note: We are updating our reports, If you want the report with the latest primary and secondary data (2022-2027) including industry trends, market size and Competitive landscape, etc. Click request free sample report, published report will be delivered to you in PDF format via email within 24 to 48 hours.
Key highlights of the report:
Market Performance (2016-2021)
Market Outlook (2022-2027)
Market Trends
Market Drivers and Success Factors
Impact of COVID-19
Value Chain Analysis
Comprehensive mapping of the competitive landscape
If you need specific information that is not currently within the scope of the report, we will provide it to you as a part of the customization.
Frequently Asked Questions (FAQs):
1.What is the expected growth rate of the global hearing aid market during 2022-2027?
Answer: We expect the global hearing aid market to exhibit a CAGR of 6.47% during 2022-2027.
2. What are the key factors driving the global hearing aid market?
Answer: The rising incidences of hearing disabilities, along with the growing availability of wide range of designs and customized hearing aid devices catering to diverse consumer requirements, are primarily driving the global hearing aid market.
3. What is the breakup of the global hearing aid market based on the end-user?
Answer: Based on the end-user, the global hearing aid market can be bifurcated into hospitals, ENT clinics and audiology centers, individual, and others. Among these, ENT clinics and audiology centers exhibit a clear dominance in the market.
Browse Other Reports by IMARC Group:
Hexamine Market Share: https://bit.ly/3ARXBk6
Champagne Market Size: https://bit.ly/3cbGvmS
Cakes and Pastries Market Report: https://bit.ly/3P51p5z
Smartwatch Market Size: https://bit.ly/3yCzvHp
Video Streaming Market Size: https://bit.ly/3ANdGHD
Vehicle Recycling Market Size: https://bit.ly/3yEhWGF
About Us:
IMARC Group is a leading market research company that offers management strategy and market research worldwide. We partner with clients in all sectors and regions to identify their highest-value opportunities, address their most critical challenges, and transform their businesses.
Our offerings include comprehensive market intelligence in the form of research reports, production cost reports, feasibility studies, and consulting services. Our team, which includes experienced researchers and analysts from various industries, is dedicated to providing high-quality data and insights to our clientele, ranging from small and medium businesses to Fortune 1000 corporations.
IMARC's information products include major market, scientific, economic and technological developments for business leaders in pharmaceutical, industrial, and high technology organizations. Market forecasts and industry analysis for biotechnology, advanced materials, pharmaceuticals, food and beverage, travel and tourism, nanotechnology and novel processing methods are at the top of the company's expertise.
Media Contact
Company Name: IMARC Group
Contact Person: Elena Anderson
Email: Send Email
Phone: +1-631-791-1145
Address:30 N Gould St Ste R
City: Sheridan
State: WY
Country: United States
Website: https://www.imarcgroup.com