JaiHo Becomes India's 1st 100% Decentralized Blockchain-Based project Using Polygon For Web3 To DTC
With the launch of their merchandise marketplace Mrswag.in, the company has set itself apart from its peers.
On the one hand, India launched central bank digital currency (CBDC) to reiterate its position as the world's largest economy, while on the other, JaiHo has become India's 1st Blockchain project with 100% supply in circulation, a feat that is currently unmatched by any project in the market, despite a flood of them.
Recently, JaiHo team announced that they are going for AMA on Binance live on Jan 7, 2023. The goal is to raise awareness about Host web3 and discuss the blockchain and the company's future plan. In the words of JaiHo founder and CEO Mr. Vikas Kumar, "Indian people want to invest in crypto, but there is no education about supply liquidity. At JaiHo, we are committed to raising more awareness about this issue which is why we do live community events every Sunday where people can learn more about crypto and blockchain."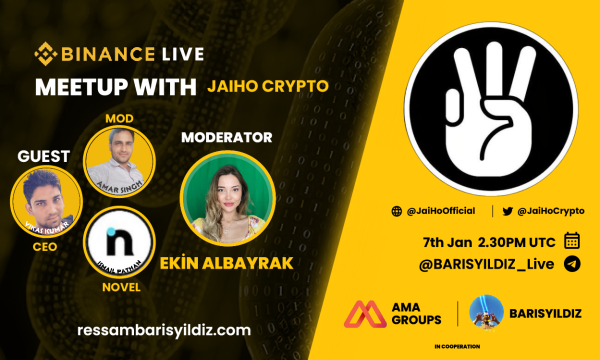 JaiHo is not just fully decentralized but India's first crypto project offering physical products and charity options. Its recent launch, Merchandise MrSwag.in is the new wave in web3, which enlists the help of Novel software solutions and uses polygon blockchain for NFT. In fact, it is now the first Indian Clothing brand that uses polygon for NFTS alongside physical products. This recent launch will enable any influencer and vendor to launch its NFT against physical products on Mrswag.
This development will mark a significant change by bringing focus to the adoption of blockchain. Consumers can now easily purchase any brand's NFT using a debit or credit card the same way they would purchase any physical product on their storefront, thus eradicating the need for any wallet or crypto.
Launched in November 2021 by Mr. Vikas Kumar to fulfill his aim to bring a project that people can trust and raise awareness about crypto space, a new concept for India, JaiHo is the first mover that works with physical products. Launched with a total supply of 500 M tokens, this supply is becoming lesser day by day as JaiHo uses a burning mechanism where supply decreases on each buy or sell of the token. The team of JaiHo is also engaging in buyback burn from MrSwag's revenue in order to maintain supply and demand.
It has also launched a charity app that enables users to donate unwanted stuff and earn free crypto in exchange. The JaiHo team buys back coins from the market and gives them as rewards for charity. In just one year, JaiHo has touched multiple milestones and gained community trust, which bodes well for the future of JaiHo, which has more upcoming ideas to help the adoption of blockchain by the general masses.
To learn more about JaiHo, visit https://www.jaiho.technology
Follow JaiHo on Social Media:
Twitter: https://twitter.com/JaiHoCrypto
Telegram: https://t.me/JaiHoOfficial
Media Contact
Company Name: JaiHo Technology
Contact Person: Vikas Kumar (Founder & CEO)
Email: Send Email
City: Jalandhar
State: Punjab
Country: India
Website: jaiho.technology